Kate Middleton's Engagement-Photo Blouse Hits the Racks; Her Mom and Sister Visit Temperley
Also, British 'Vogue' does royal wedding covers, and Kate has a favorite hamburger! With calories!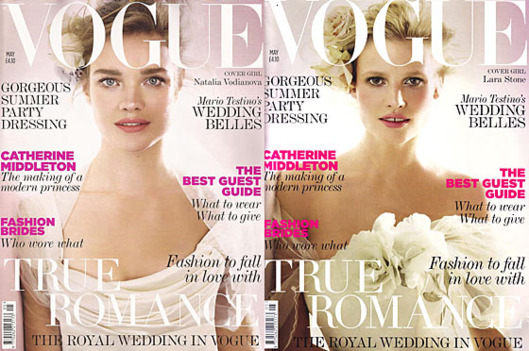 The Cut is a safe space — an open and loving forum where you can safely and unabashedly care deeply about the minutiae of every major news nonstory relating to the royal wedding occurring on April 29. Today, Kate Middleton's Whistles blouse hits stores, her mom and sister shop at Temperley, she allegedly has a favorite burger (zomg calories!), and more.
• The blouse from Whistles that Kate wore in one of her engagement photos is available in stores and online again for £125. The top, now called the Kate, frighteningly but not unpredictably has a flavor of Seinfeld's infamous "puffy shirt." [Telegraph UK]
• Kate's sister, Pippa, and her mom, Carole, recently spent three hours at Alice Temperley's London showroom. This must mean Kate's wedding gown will be by Temperley — which is not wholly unlikely since Temperley, like Kate's style, is not shocking or edgy or cool. But Pippa and Carole also spent some time at Bruce Oldfield's shop a little while ago — and in all likelihood they're just shopping for whatever with the luxury of having the designer around, which they can do because Kate is so famous now. [Daily Mail UK]
• You may be interested to know this about Carole's diet: "Observers say she is so diligent she is even attempting to give up sugar in her cappuccinos (skimmed milk 'skinnies' only, if you please!)." [Daily Mail UK]
• British Vogue's May covers are a tribute to the royal wedding. Lara Stone, Natalia Vodianova, and Freja Beha wear wedding gowns and stare at the camera with that signature stoned insane bride look. [Fashin]
• Prince William is said to have gone surfing with his bros as a part of his bachelor party activities. Says a 17-year-old onlooker: "I didn't realise who it was at first but then [William's friend] George Stucley came over to me and said, 'Can you watch out for these lads as they don't really know what they are doing?' I looked over and realised it was William. They weren't very good. They were just paddling about having a laugh." [Daily Mail UK]