Slideshow: The Tackiest, Most Terrifying Royal-Wedding Memorabilia
That royal-wedding-themed fridge was only the beginning.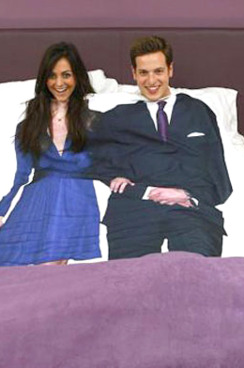 What would a royal wedding be without memorabilia? The wedding of Charles and Diana was an excuse for tchotchke-makers to run rampant, and Kate and William's nuptials are no different — but we don't recall any fridges decorated with a five-foot-nine-inch photographic imprint of Charles and Di being available in 1981. General Electric's David Garden has proclaimed of his company's fridge that "it certainly wipes the floor with your usual commemorative tea towels and mugs." And the same might be said for the Crown Jewels royal wedding condoms, the Viagra-infused Royal Virility Performance pale ale, and the Papa John's royal-wedding-portrait pizza. While there's still plenty of yawn-worthy commemorative china, spoons, thimbles, and other various knickknacks out there, Will and Kate have inspired a far more creative population than the usual tchotchke-hoarding crowd. For your amusement (and/or shopping convenience), here's the most terrifying royal-wedding memorabilia available.