Slideshow: The Week in Street Style
The best of this week's style blogs.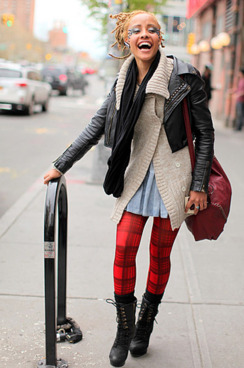 It's officially "transition" season! Which means people are finally ditching their coats and layering up for weather that's more fickle than that wheezing air-conditioning unit you've been trying to resurrect this week. In New York, O Alfaiete Lisboeta caught this sparkly-faced woman (shown) in a fabulous mishmash of garments, while Swagger New York spotted Jocelyn on a warmer day (but not quite warm enough to go with bare legs). Other highlights: a black-clad Abbey Lee Kershaw, shot in Paris by Altamira, and a green-skirted Liz, shot for Late Afternoon.