Stores Are Tricking Out Their Fitting Rooms With Fancy Lighting for You and TVs for Your Boyfriend
Stores are trying new ways to coax you into their dressing rooms.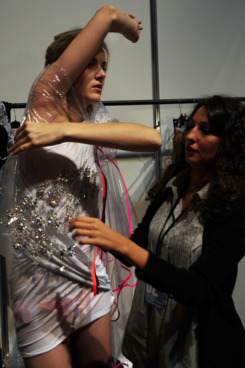 According to a recent study by retail consultant Envision Retail Ltd., customers who try on clothes in stores have a 67 percent chance of buying something, whereas those who don't have a mere 10 percent chance. This is partly due to the fact that people who don't try anything on just didn't like what they saw so weren't going to buy it anyway. But The Wall Street Journal notes that people don't try things on because dressing rooms are unpleasant. Therefore, stores are attempting to lure customers into spending more by turning their dressing rooms into more tempting places. The psychology is that if customers are relaxed and happy — instead of cranky that the door won't close all the way, or stressed that their boyfriends are impatiently waiting outside, or horrified by the dimples that they can suddenly see on their thighs — they'll be more likely to buy the clothes.