Tom Brady and Gisele's Bodyguards to Attend Hearing in Costa Rica Over Alleged Shooting
Remember all those SPARKS at their second wedding?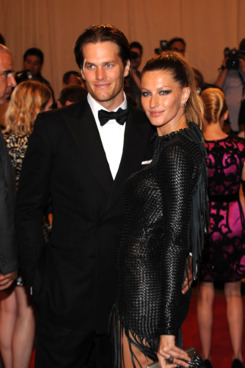 Remember when paparazzi accused the bodyguards at Tom and Gisele's second wedding of shooting at them with guns while they were trying to shoot Tom and Gisele with their cameras? The case was thrown out of New York State Supreme Court because the judge said the pair was not "living in the U.S. at the time," according to the Huffington Post. Costa Rican authorities have determined that the three bodyguards accused of firing weapons at the photographers' car and blowing out the back window will have to go to an "oral hearing" on April 29. Tom has told Sports Illustrated that the photographers' claims are "absolute total b.s. We found two guys on our property, and we told them to get out. Our security guys didn't even have guns. There were no shots fired."
How come no one has ever asked them why they needed two weddings? That's what's still bothering us.
Gisele & Tom Brady's Bodyguards To Face Judge For Alleged 2009 Wedding Shooting [HuffPo]