U.K. Officials Have Determined a Slim Model Cast by Miu Miu Is 'Not Irresponsible'
Two people complained about this one ad.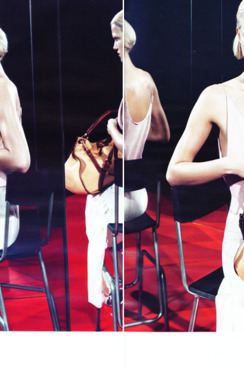 Apparently the Miu Miu ad pictured here starring 23-year-old model Kasia Struss was under investigation by the U.K.'s ad watchdog group, the Advertising Standard Authority. A grand total of two people, according to the Telegraph, complained about how slim Struss appears in the ad, calling her "significantly underweight." The ASA, which polices ads that are misleading or (in their official opinion) bad for society, concluded that the ad is actually fine. Their official ruling:

"The ASA noted that the model in the ad was slim, and that the lighting effects, make-up and low-cut dress emphasised her body shape. However, we considered that the ad was typical of those used for fashion products and that the model did not look significantly underweight. We therefore concluded that the ad was not irresponsible."
Miu Miu cleared of using 'too skinny' model in advertising campaign [Telegraph UK]