Everything About Kate Middleton's McQueen Wedding Dress That You Ever Wanted to Know
Stumble Upon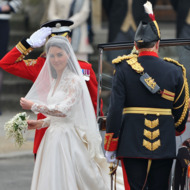 Thankfully, the rumors were true: Kate Middleton's wedding dress was designed by Sarah Burton of Alexander McQueen. Fashion critics are pleased. The Telegraph's Hilary Alexander raves: "Fabulous, fashionable and fairytale, the dress was fit for a queen-to-be and combined the style of a modern princess with that of a 20th Century princess." Vogue deems it "technically faultless in its scale and construction," noting that it "allowed the bride to move with ease, carrying all the weight of British history and expectation without the slightest wrinkle or hitch." Other critics noted its resemblance to dresses worn by Grace Kelly and Queen Elizabeth II. Karl Lagerfeld chimed in on France 2 television, saying, "She is very elegant. The dress is classic and goes very well in the Westminster decor. It almost reminds me of (Queen) Elizabeth's wedding, the royal weddings in the fifties. The proportion of the train is good."

Non-critics were less impressed, according to the Times' Christine Haughney.

Daniel Orszewski, a 31 year old head of styling for Top Shop, leaned back in his booth at G-A-Y Bar, sipped champagne and expressed his concerns about Ms. Middleton's fashion choice saying that the dress was too plain.
"I thought Pippa looked better," he said while dressed in a tight black Union Jack t-shirt. "I thought the lace looked too fussy. The overlay on her head looked like a curtain."
WWD polled several designers. Hubert de Givenchy said: "The dress is very simple and very nice. The veil is a little flat, but because she has such a lovely face, she can afford to wear it this way. She is very pretty." Christian Lacroix noted approvingly that the dress was "simpler than expected," while Elie Saab was a bit more critical: "I would have liked it even more with a little extra volume and a longer train."
Update: The Daily Beast's Robin Givhan approved of the gown's elegance and understated sex appeal. Though it "did not change western fashion as the world knows it," she writes, "[i]t put a giddy smile on the young prince's face ... what more can one expect or hope for a wedding dress to do?" She continues, "The gown wasn't one of a woman aspiring to be a fashion icon, but rather one who was supremely secure in her sense of self."
Givhan also approves of Kate's decision to wear her hair down, "avoiding the mistake of so many brides who physically transform into a nearly unrecognizable creature of shellacked up-dos and thick makeup on their wedding day."
Update: British Vogue editor Alexandra Shulman, who attended the wedding, chimes in: "What an amazing dress, it was perfect for the bride and sent out so many fantastic messages." Of the guests, she says, "The whole atmosphere was incredibly friendly," and "a lot of people were wearing black, surprisingly."