What Christian Louboutin Should Be Known For, in Addition to Those Red Soles
Stumble Upon
After filing a lawsuit against Yves Saint Laurent last week for making the soles of their red pumps red, Christian Louboutin filed a trademark infringement suit against Carmen Steffens of Brazil, whose soles also come in a shade of red (they call it "rosette"). In a statement issued yesterday, Steffens said they are surprised "that another brand is trying to reserve the rights to any color." The Loub, of course, is known for the distinctive bright red soles on his designs — along with, perhaps, his shoes' uncomfortable nature, price tags, and spikes.
More from Carmen Steffens:
The statement added, "The tones are not the same, and, as catalogues dating from 1996 can prove, Carmen Steffens shoes contain soles of all colors, including red."
...Gabriel Spaniol, international development director for Carmen Steffens' — which is sold at 450 locations across South America, including 160 standalone stores — also stated, "We are ready to provide unassailable evidence that we have been using coloured soles, especially red, before Mr. Christian Louboutin popularised his."
According to the recent New Yorker profile of Louboutin, he came up with the idea for red soles in 1993, which was his third year in business, and filed for trademark protection in the U.S. in 2007.
Anyway, what you should really know about Christian Louboutin is not that he wants red soles on shoes to be "his thing" — that you already knew and will not soon forget. But in doing some hard-hitting investigatory reporting for this post, we tooled around for a few minutes on the Loub's fantastic website, landing on his faux newspaper the "Louboutin Times." Just look: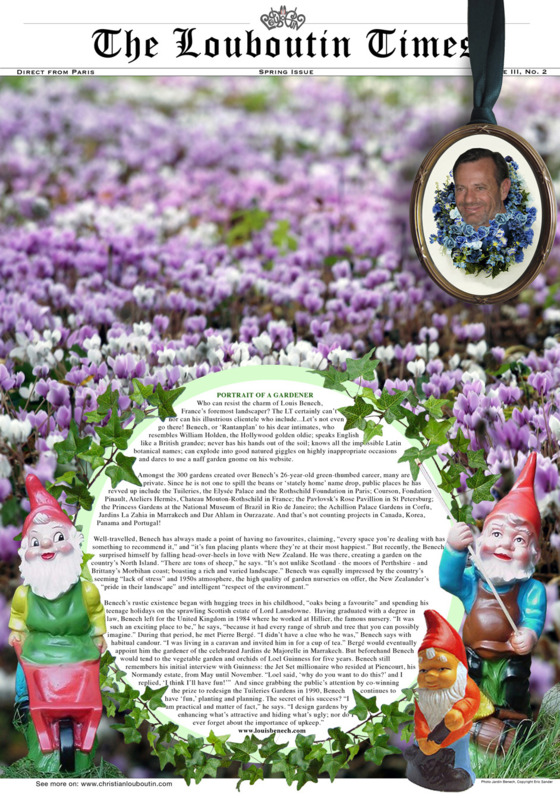 Why, it's a story about a celebrity landscaper! Framed by garden gnomes. An excerpt:
Benech's rustic existence began with hugging trees in his childhood, "oaks being a favorite" and spending his teenage holidays on the sprawling Scottish estate of Lord Lansdowne. Having graduated with a degree in law, Benech left for the United Kingdom in 1984 where he worked at Hillier, the famous nursery. "It was such an exciting place to be," he says, "because it had every range of shrub and tree that you can possibly imagine."

Hey, the New York Times has that paywall now...