Apparently Prince William's Wedding Ensembles Were 'Just As Detailed' As Kate Middleton's Gown
His cuffs were hand-embroidered.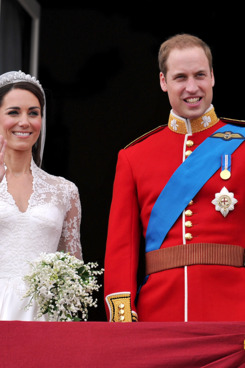 Russell Kashket is aware that the world has tunnel vision, and when they watched the royal wedding, Kate Middleton, her sister Pippa, and sometimes Prince Harry were the only people doting about in that tunnel. But that didn't mean the stakes were any lower for Prince William's attire, which he made, along with Prince Harry's and the adorable little pageboys' suits. Like Sarah Burton, Kashket was sworn to the utmost secrecy about what he was doing.

"In early February the palace contacted me, without telling me, who or what or anything. Then suddenly they said, 'We can't go any further until you sign this contract with His Royal Highness Prince William.' I went back to the factory and asked my dad to draw up some designs for the page boys which he signed 'B Kashket MBE', as usual. Hours later I get a phone call: 'We love the designs. But who's B Kashket MBE? He's got to come down straight down here and sign a confidentiality agreement. Now!' That's how tight [security] was."
Fit for a prince [GQ UK]