Carla Bruni Is Reportedly Having a Boy
An old friend of the couple's spilled the beans.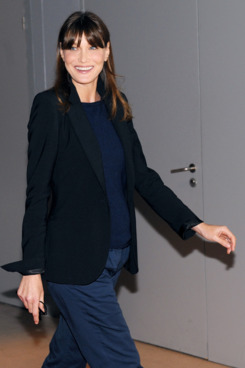 According to advertising magnate Jacques Séguéla, an old friend of the couple's, Carla Bruni and Nicolas Sarkozy are expecting a son. Séguéla, who introduced Bruni and Sarkozy at a dinner party in 2008, told Belgian newspaper Le Soir, "I have it on good authority that the baby will a boy." Séguéla has previously spilled details about the presidential couple's relationship, notes the Telegraph:



In 2009, he gave a blow-by-blow account of how they met at an impromptu "blind date" soirée, describing the scene as an "unexpected game of seduction between two wild beasts".
Carla Bruni-Sarkozy 'expecting a boy' [Telegraph UK]
Earlier: Carla Bruni Is Pregnant, Says Nicolas Sarkozy's Dad