Future Princess Charlene Wittstock Wore a Lot of Akris to the Monaco Grand Prix
All the dresses were custom-made too.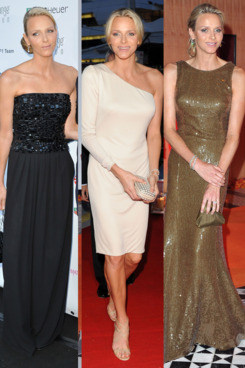 Attending a whole bunch of events celebrating Monaco's Grand Prix over the weekend, Charlene Wittstock stepped out in a veritable capsule wardrobe, exclusively designed by Akris. From left to right: a black wide-leg jumpsuit with a crystal-embroidered sleeveless blouse, a cream one-sleeved minidress (with clutch to match), and a shimmery gold sequined floor-length evening gown. To each look she added a few simple pieces of jewelry.
High glamour done three ways. Which look looks the best on Charlene?