Inside the Epic Comme Des Garçons Sale
A decade of high-concept collections at 70 percent off.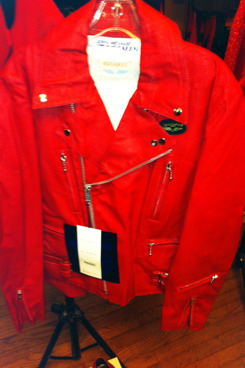 The Comme des Garçons sample sale starts today, including ten years of collections from Comme des Garçons, Junya Watanabe, Tao, and many of the collaborations Comme has done with various fashion houses. We went to the preview at the Croatian Church (along with Michael Stipe, Soon-Yi Previn, and a sprinkling of fashion editors) to scope out the haul. The sale is HUGE — including merch for both men and women — and the prices are 70 percent off (and many of the retail prices are high). We wouldn't call any of the items bargains, per se, but if you love brightly colored motorcycle jackets, anything with polka dots, and high-concept fashion; this is the sale for you! Here are a few sprinklings of what you'll see at the sale today.
Comme des Garçons Sale, (Croatian Church, 504 W. 41st St., nr. Eleventh Ave.; F–S (10–7), Su (noon–8), M (10–7).