Preview the Stunning Vintage Designer Pieces From the Decades Auction and Sale
Try your luck getting to them first at the Kiki de Montparnasse store over the next three days.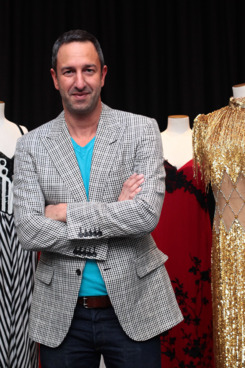 L.A.-based designer resale stores Decades and Decadestwo are selling some spectacular goods at the Kiki de Montparnasse store over the next few days. Tonight at 7 p.m. a private auction of eight dresses from their fashion archives will commence, with bids on each starting at only $100. Tomorrow a two-day sale begins on hundreds of designer items that have been trucked cross-country just for the event; the stock includes shoes and accessories, both vintage and current-season stock, including pieces by Chanel, Givenchy, Balenciaga, and many, many more. With consigners to the renowned stores including Hollywood stars, earnest fashionistas, and even a Bahraini princess, all the stock is high-end, in great condition — many pieces still with store tags attached — and priced at least 60 percent off retail. Click through our slideshow to see all eight dresses that'll feature in tonight's auction, and a selection of the pieces that'll be available in the sale starting tomorrow — if you're quick enough to snag them, that is.
Decades Sale: Kiki de Montparnasse, 79 Greene St., nr. Spring St. (212-965-8150); F–S 11–8.
BEGIN SLIDESHOW