Gisele Has a Lingerie Line Now
To add to her list of haves: hot husband, adorable baby, overall perfection, etc.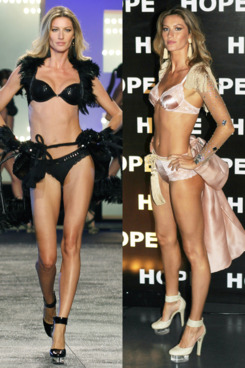 There are things Gisele doesn't have. The woman who wants neither for a husband that still looks hot with long greasy hair, an adorable tuxedo-wearing baby, recognition by last name, looking generally perfect at all times, Harvard University honors, and now a lingerie line, doesn't have fat on her stomach. Or the ability to say, "No, thanks, I'm not really into tassel earrings," when she has to walk the runway for a lingerie line she represents. As she walked in Brazilian lingerie label Hope's fashion show in her native country yesterday, one got the feeling — as one usually does when looking at Gisele — that she's never known the feeling of a thigh that's jiggled one jiggle too many. Hope's Gisele Bündchen Brazilian Intimates bras and panties full of dreams — the dreams of not being unattractively jiggly — will cost twice as much as regular Hope stuff, and hits 2,000 Hope stores in Brazil May 25. You can watch Gisele walking in the runway show ahead. It's like Victoria's Secret lite.
Gisele Just Launched Her Own Lingerie Line [Made in Brazil]