Gisele Looks Down on All Us Mere Mortals
It might just be the camera angle, but still, it's Gisele.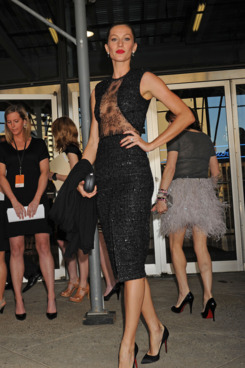 Gisele Bundchen attended the Robin Hood Foundation's annual benefit in New York yesterday wearing a sparkly Ungaro cocktail dress with a sheer lace panel, paired with high black heels. She carried a black shrug and a small clutch.
This is Gisele, so anything is going to look sexy, but is the lacework a little too much front and center?