Gisele: Tom Brady's Hair Is Long Because He Likes It That Way
"I love it no matter what," she told us. "Short, bald, red, long, whatever."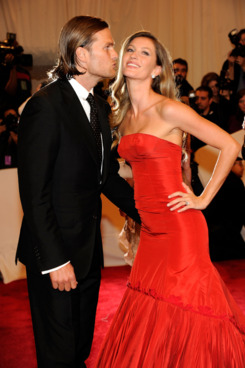 There were lots of fabulous hairdos at last night's Met Ball honoring Alexander McQueen, but definitely deserving of attention were Tom Brady's locks, which would have blown wildly in the breeze had they not been neatly combed back and glossed with all that hair product. Was it true, we shouted to his wife, Gisele, as she breezed by in her stunning red Alexander McQueen ball gown on the red carpet, that she told Tom to keep his hair long? "Actually, I haven't had time to cut it and — oh, his hair?" she replied, pointing to Tom, after realizing that we weren't in fact asking about her hair. "I like it however I can get it." She said she was not telling him to keep it long — or put it in ponytails. "I think he does whatever he wants to, because I love it no matter what — short, bald, red, long, whatever," she explained. "It's all good."