Highlights from Chanel's Cruise Show: Flip-Flop Boots, Blake Lively, and Nonchalance
Well you know, fashion's version of nonchalance.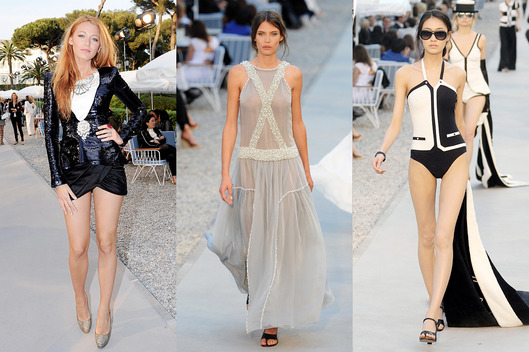 Blake Lively may be an American princess — but at the Chanel cruise show today, everyone was a bit of a princess. Guests lounged on fine patio furniture sipping champagne and nibbling almonds on the French Riviera as models strode by in Marlene Dietricht-inspired clothes. According to the AFP, no one seemed to mind here — under the glorious foreign (for many of them) sunshine — to have to wait an hour past schedule for the show to start. If nothing else, they could contemplate if Blake Lively's skirt was a skort. For Chanel could pull off that kind of thing — skorts — or other hybrid items like the "knee-high boots that looked as if they'd mated with a pair of flip flops," as AFP describes them, shown today.