How Michael Kors Went From Selling Tie-Dye Jeans to Heading a Fashion Megabrand
Stumble Upon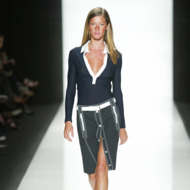 Whether he's making clothes or talking about making clothes, Michael Kors is an unfailing crowd-pleaser. A room full of what looked like some of his best New York customers gathered at the Doubles Club on the Upper East Side this week to hear him chat with F.I.T.'s Valerie Steele at a lunch held by the school's Couture Council. When the picked-at crab salad was whisked away, and many of the subsequent sorbet cups declined, Michael took the microphone. "Oh, now I have to be amusing!" he quipped, to laughter. The designer, who is celebrating his 30th year in business and just opened a store at 133 Fifth Avenue, discussed everything from dropping out of F.I.T., to his teenage penchant for leg warmers, to the daunting task of overseeing the megabusiness his name has become, to Project Runway. Read highlights of his talk below, and see some of Michael's personal career highlights chosen exclusively for the Cut from the past 30 years in the slideshow.
When Michael attended F.I.T., he wanted a job working in a clothing store. Bergdorf Goodman and Henri Bendel wouldn't hire him, but the eccentric Lothar's did.
I think both [Bergdorf and Bendel] at the time said no, we're not hiring freelance, part-time, 18-year-old kids in leg warmers. (Yes, I wore leg warmers, yes, long hair, looked like Peter Frampton, signed autographs, "love, Peter Frampton"). There was a store on 57th Street and Fifth Avenue called Lothar's. And Lothar's sold tie-dye, French, skintight, very Brigitte Bardot, Saint Tropez jeans that I think at the time were $130 for a pair of jeans, which everyone thought was insane. I walked into the store actually thinking, You know, I didn't get a job, but maybe I could buy some pants. Of course, when I was in the store I realized they were $130 and I don't have $130 and I started talking to one of the sales girls and she said, we're actually looking for part-time help. And she looked at me and said, you know you get a discount in the store and you get a free outfit, so I was like, I'M HERE.
Eventually, Lothar's asked Michael to start designing clothes, which jump-started his namesake line.
Tie-dye jeans stopped being chic or desirable, no one wanted them, and we had this store where we had no customers and the owners of the store said to me, "You have such a feeling for the women who shop in this store and you have such a point of view, if we set up an atelier would you like to design the clothes for the store?" At 19: "Yes!" I didn't design a collection, I designed whatever I thought was right for that minute. If the weather was rainy in New York, I made raincoats, if it was really hot out, we made linen dresses.
His big break came when Bergdorf Goodman noticed what he was doing at Lothar's. One day Dawn Mello, the store's president at the time, came in when Michael was doing the store windows.
She said to me, "We've been watching from across the street, and if you decide to ever put together your own collection, call." And she walked out of the store and I was like, I gotta get going! We went to Bergdorf's, I brought my one model and I forced them to sit through a fashion show of eighteen looks with one model. We were about halfway through and Dawn said to me, "Can you excuse us?" And I said sure, and I came back a few minutes later and she said, "We think the clothes are wonderful, they're perfect for Bergdorf's. What can we do for you?" And, what does that mean? I realized now I had to figure out how I was going to finance this, make the clothes, and she said, "What's the situation?" I said, "I need money, I can't pay for this myself," and I said, "I want windows on Fifth Avenue and a trunk show and I want to have an ad in the New York Times." And she was like, "Okay."
Michael didn't put on his first fashion show until three years later.
There was a part of me that didn't even want to do a show, quite honestly, because I thought a fashion show meant it had to be a SHOW, and I thought it would take away from the clothes, and I thought what I was about was seeing the clothes up close, seeing the way they were finished, seeing the way they were made, the cut. The first fashion show — at the time everyone thought it was such an exotic neighborhood, we were on Sixth Avenue and 18th Street, where Bed Bath & Beyond is now, in an art gallery upstairs, and I was amazed that anyone came. I walked out at the end and the place was packed and by that point we had a very solid following in the stores and people were excited to see what we would do with a show.
Michael has had to encourage guest judges on Project Runway to be totally blunt with contestants.
We had one actress who, as the show started, a garment came out that I thought was just ridiculous, Nina thought was ridiculous, and Heidi thought was ridiculous. Then we got to the actress and she was like, "Well, it's a dress, and it has a fabric." And she was really being very, very lovely. And we broke for a minute I said to her, "You know, you have people who admire what you do and they're going to watch you on the show and they're going to know you think that dress is ridiculous." And she said, "I feel bad being critical." And I said, "Well, has every movie you've ever made had great reviews?" And she said, "Certainly not." And I said, "Unfortunately, when you're in the public eye it's part of it, and what these kids might experience right here is mild compared to what a life of fashion might bring." And suddenly we went back and she totally changed: "Well, I would never wear that dress, I think it's too short, and I think if you made it a little more fitted —" and I was like, whoa, I unleashed her.
Dressing advice Part 1: mirrors.
I really think the craziest thing is how can you get dressed without a three-way mirror. Because the reality is, especially in New York, we live in a city of street theater. I mean, everywhere we go we are assessing each other.
Dressing advice Part 2: color.
I think women get bored and they say, "Oh, well, I don't have anything in that color." Well, maybe there's a reason why you don't have anything in that color.
Dressing advice Part 3: wardrobe staples.
I think there's no price tag on black pants that you don't need to wear with a tunic, that you don't need to wear with a long jacket, that the crotch is flattering, that the ass looks great, that you're happy in, number one.
Number two, I think no one knows what to put over clothes at night, so buy a fabulous raincoat that is spare and clean enough that you can wear over a gown, that you can wear over jeans, let it be black silk, let it be khaki poplin, tailored, narrow, fitted — everyone has to have one.
I think big glasses — and it's all relative, big glasses depending on your face — but big glasses are instantaneously going to make you look younger, refreshed, glamorous. Aviators make everyone look dangerous and sexy.
And white jeans, I'm not just saying it, white jeans are an automatic glamour piece. They can be dressed up, they can be dressed down. Women have been taught this weird rule that you have to wear black on bottom and all the light on top; I think when you wear black on top sometimes or navy on top and go white on bottom it's very slimming, very glamorous. And I like white in winter because it proves you don't have to deal with the elements.
Vintage shops are not the best place to buy Michael Kors.
We never find any Michael Kors in vintage stores. I'm like, Where is it? A woman in L.A. says to me it's in people's closets, she said vintage stores are full of mistakes. And now vintage in Hollywood is ridiculous — the dress is last season and it's like, oh, she's wearing vintage. No, that's last season's dress.
Keeping up with the fashion cycle is more than a full-time job.
The cycle is crazy. Before we did Céline, I'd be like, "God I'm so busy." And I've realized I wasn't busy at all! Starting to go to Paris, and having to do the two shows each season, it's like an athlete going into training. As designer, you have to have endurance. It's also no longer American designers design for America, and French designers design for the French market. I do four collections on Michael Kors collection, on Michael Michael Kors we ship something new every month, we have three shoe collections, two handbag collections, men's which is monthly, watches four times a year, and I'm doing all of it and I'm on top of it.