Kate Middleton Is DOING HER OWN GROCERY SHOPPING
And pushing her own cart in the store's parking lot!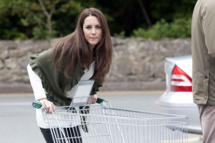 Wearing skinny black jeans, a green knitted shawl over a white sweater, and yes, her wedding ring, the Duchess of Cambridge popped over to her local supermarket to buy groceries. She even pushed the cart herself! Like a plebe!
See the full look in the ever-expanding Kate Middleton Look Book.