See What Marisa Miller, Aubrey O'Day, Food Network and Bravo Stars Wore to the Kentucky Derby
Time for a hat slideshow!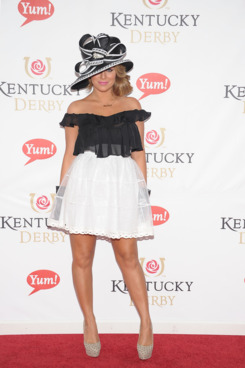 Dressy day wear that necessitates a hat is fraught with potential for failure, as Princess Beatrice may know all too well after Kate Middleton's wedding. Guests at the Kentucky Derby over the weekend did not put the royal wedding crowd to shame, with outfits that sometimes sadly suggested sartorial failure was the point. Too many wound up looking like a cross between a cake from that Cake Boss show and a badly dressed princess Chihuaua — the kind with an owner who has an unfortunate amount of time on his or her hands to purchase dog-sized tutus and tiaras. Vanessa Manillo, Aubrey O'Day, a Real Housewife, and Marisa Miller were among the ladies and gents who attempted to put their best hats forward at the Derby over the weekend. See how that all turned out in the slideshow.