Lindsey Wixson Fell, Fell, and Fell Again in Naomi Campbell's Charity Fashion Show
On the bright side, you can see how well she handled it in the video.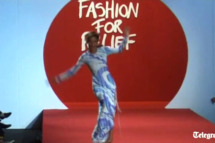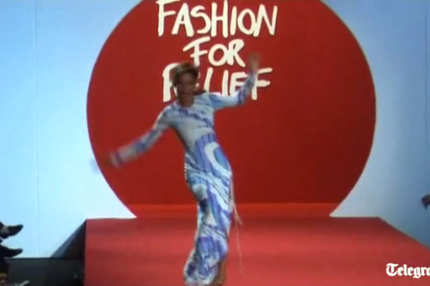 Is there something about walking in a show to benefit earthquake victims that makes models fall down? Probably not, but it does seem a strange coincidence that, in an echo of Agyness Deyn's two stumbles at Naomi Campbell's Fashion for Relief benefit for Haiti in New York last year, we saw Lindsey Wixson fall at least six times in two outfits at last night's F4R Japan benefit in Cannes. We're not sure who designed the shoes Wixson wore when she tumbled, or who designed her first look — a long, voluminous gown one can only hope cushioned her knees on the way down. She fell once on her way toward the photographers, and then again and again and again on her way backstage. After one fall, Wixson very cutely even jumped up and raised her arms like a triumphant gymnast finishing a vault — and then took a couple of steps and promptly fell again. The poor thing seemed to drop to her hands and knees each time, and to make matters worse, after Wixson changed into a white Prada dress for her next walk, she fell again. The good-natured crowd, however, didn't mind and cheered her on. Plenty of ladies in the cast, which included models and non-models, had shaky walks; two in addition to Wixson took tumbles, though Wixson was the only professional model who took a spill.
The Telegraph filmed a video of some of the runway carnage, where you can see how well Wixson handled her tumbles. Maybe she can make falling the new walking.