Mad Men's Janie Bryant Is About to Launch Her Website, Considering Her Own Clothing Line
The problem is, she already has a full-time job.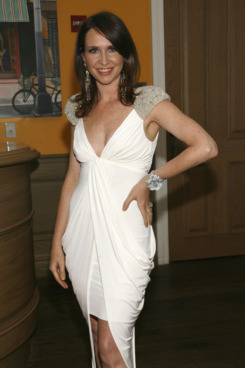 After last night's panel discussion on "Heritage, Business, & Influence of Costume Jewelry in Fashion" at the Crosby Street Hotel, we caught up with Mad Men costume designer Janie Bryant. Her current projects include assembling her own website, JanieBryant.com (tentatively scheduled to launch on June 14), finishing up her last capsule collection for QVC in June, and getting ready to prep for season 5 of Mad Men this summer. And is she getting any closer to striking out on her own with a clothing line, as so many people are always begging her to do? "Yeah. Actually, I've been thinking about that, and talking about that," she said. "The real issue is that I'm still designing Mad Men. It's scheduled for a couple more seasons at this point, and I think it would be nice to finish the show first. I feel like [a clothing line] is a lot of work, and I don't know if I can concentrate, and give full creative force that I would need to do for both projects at the same time."