Meet the New Girl: Ruby Jean Needs to Be Alone for Two Hours Every Night
Stumble Upon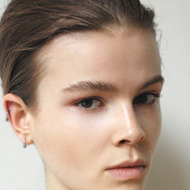 17-year-old newcomer Ruby Jean kick-started her modeling career when, in 2009, she sent photos of herself to Priscilla's Model Management at the insistence of her classmates. A year later, the Scottish-born, English-raised girl flew to New York for the spring 2011 shows, where she walked for Lacoste and Karen Walker. But Jean's most recent coup was her opening slot at Yves Saint Laurent's fall 2011 show in Paris, for which Stefano Pilati booked her exclusively.
How did you first get discovered?
At the end of my sophomore year [of high school], everyone kept telling me I should send in pictures. I didn't take it too seriously, but at the same time, I didn't have a real aim with school either. It was the summer holidays, so I sent photos to Priscilla's Model Management and they got back to me and set me up.
You didn't always want to be a model, then?
Not at all. I'm tall, so I figured why not, and it seems to have worked well for me so far. It's such a short-term job that if you have a chance to do it, you might as well give it a go. And if it doesn't work then it doesn't work. Sadly, 23 years of life in model years is like 95 years of normal life.
You opened for Yves Saint Laurent's fall 2011 show in Paris as an exclusive to the label. How did that come to fruition?
I first had a brief casting in New York, and then met with Stefano Pilati again in Paris. I had no idea I was going to open the show, as they told me five seconds before the show started. It was amazing because girls like Abbey Lee and Freja Beha were behind me, so I thought, "Wow, he must really like me, because these girls are awesome."
What would you like to accomplish in 2011?
I would like to be based somewhere for more than two months. "Based" meaning have a wardrobe that has my clothes in it, and not live out of a bag. I'll obviously move around a lot, but I want a place that feels like home. And of course, I'd love to walk great shows and get a major campaign.
If you had tomorrow off, what would you do?
I want to go to Brooklyn and visit the vintage markets. I went to this massive market in Chelsea and it was so overpriced. You can basically grab an old brown tag, write "1965" on it, and charge three times what it's worth.
If you weren't modeling, what would you be doing?
I have really no idea. It's a little bit crazy because when I think about it now, I'm probably going to branch off. I feel like I'd be wasting everything I learned as a model if I didn't branch off this career in some way. I don't know what it'll be yet, though.
Life motto?
Thinking things will go well tends to make things better, so think positively.
What's your most favorite feature about yourself?
I think I'm a good person to talk to; I'm a good listener. And I think genuinely.
Let's play favorites. What's your favorite:
Band: Lady Gaga, Justin Bieber … [Laughs] No, I'm kidding. Seriously though, I listen to a lot of different stuff. I love Crystal Castles because they have a song for every possible mood.
Book: I like to read books on nutrition. I was thinking about going into that as my career after school. I also like books on spiritual thinking and positivity.
Film: Trainspotting. The hospital where he goes when he overdoses in the film, I was actually born there. This Is England is good too, it makes me miss England.
If you could meet anyone, dead or alive, who would you meet?
Dalai Lama.
Let's look in your bag, what do you have in it?
A lot of rubbish: my portfolio, piña colada-flavored gum, cigarettes, and Rescue Remedy Pastilles, which are lifesavers. Have you had them? They're herbal and you really want to chew them but you can't. They're so good.
Where do you get your style inspirations?
I wouldn't say I'm inspired by anyone in particular. I like to wear things that other people are not wearing. I don't like to pay a lot of money for clothes. I like to find bargains. Most my clothes are from thrift stores, and if they aren't, it's usually basics like a white tee.
You're about to be stranded on an island, you can bring one person and one thing, what would you bring?
My mom, for obvious reasons, and a phone that works to call for help.
What's the one thing you have in Australia that you can't find in New York, Milan, or Paris?
Cheap, cheap vintage stores where things are ten cents. There are places where you can buy clothes by the kilo, but you have to dive into a pile of clothes to find the good stuff, which trust me, I've done.
If you could change one thing about the industry, what would it be?
I would have every designer, casting director, and everyone else you need to meet in this industry come to my house to meet me, instead of me walking around all day. That would be pretty sweet.
Beauty secrets?
I use the same thing every single day, and if I don't have them I'll get a pimple, literally. Neutrogena Rapid Clear Skin Cleansing Pads: It's that good and it's cheap.
Where do you see yourself in five years?
Hopefully living very comfortably, somewhere with a lot of sun with somebody really special.
What grounds you?
A hot bath, a nice dinner. I also like to be alone for two hours, listen to music, and not talk to anyone. I find that to be really grounding, especially if you're living in a model apartment. Sometimes you don't want to talk to models about modeling after you've been modeling all day being surrounded by models.
Any last words for all the young, aspiring models out there?
Stick to it. Don't take anything personally because faces go in and out of fashion like clothes. One season you might not get anywhere and next time you'll walk all the big shows. It's just how it works. It's not you they're looking at, really, it's your "look," and you have to remember that.
Explore other rising stars (plus all the big names) in our extensive Model Manual, featuring runway pics, glamorous editorials, model bios, career timelines, and more.