Michelle Obama Celebrated Cinco de Mayo With a Lime-Colored Dress
Lime ... tequila ... Cinco de Mayo indeed!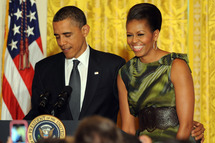 Michelle Obama attended a reception in the White House's East Room celebrating Cinco de Mayo yesterday evening, wearing a lime-green and black optic-print sleeveless dress by Laura Smalls and a large Alexander McQueen belt with cut-work detailing. She slicked her hair back and accessorized with gold hoop earrings. See the dress in more detail in the Michelle Obama Look Book.