No Black Models Walked the Chanel Resort Show
But Kristen McMenamy did.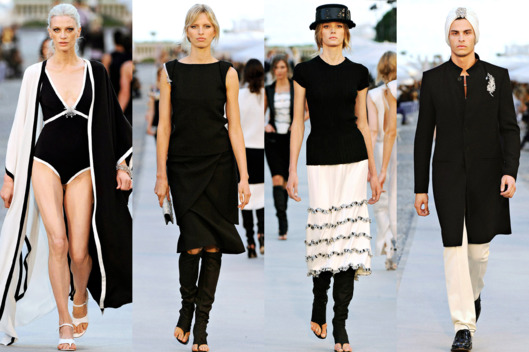 If you haven't looked at the entire 74-look Chanel cruise collection, you can do so in our runway slideshow. Many critics were stuck on the bizarre boot-flip-flop hybrid. "Perhaps that could be rationalized as the shoe for someone who has everything else her heart could possibly desire, in keeping with what the designer saw as the spirit of the locale. But there are some desires that are clearly better left unsatisfied," quipped Style.com critic Tim Blanks. But also of note in the collection was the cast, which included all the top girls you'd expect, and even the more unexpected Kristen McMenamy. She walked in a lineup that included no black models, no plus-size models (Crystal Renn famously walked the Chanel resort show last year), and two Asian models (Fei Fei Sun and Shu Pei Qin). In fact, no black models walked in the label's resort show last year, the fall 2011 show, the spring 2011 couture show, or the pre-fall 2011 show.