Paparazzi Catches Target Shooting the Campaign for the Missoni Line
And so you can see a few of the items in the line, which Target has been meticulously guarding from public view.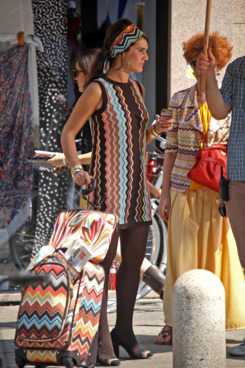 As they do with all designer collaborations, Target has gone to a bit of effort to ensure the utmost secrecy of its forthcoming Missoni line. The store held a physical preview of the goods for print editors and bloggers but forbade them from taking cell-phone pictures or writing about them in any significant detail on the Internet. However, where there are certain things, the paparazzi will always smell them. Gisele with her baby bump, Justin Bieber with his girlfriend, Beyoncé with her flag — and now, apparently, top secret designer diffusion lines. Margherita Missoni, who will star in the campaign for the line, was photographed on the set of the Missoni for Target ad shoot. And there she is, wearing her affordable dress with her affordable headband carrying her affordable suitcase and affordable duffel. So now you know what, like, five of the items in the 400-item line look like. But if you hadn't seen this image and know a thing or two about Missoni, you might have guessed they'd look something like this anyway.
Missoni for Target [TFS]