Slideshow: The Week in Street Style
The best of this week's style blogs, from Oslo to L.A.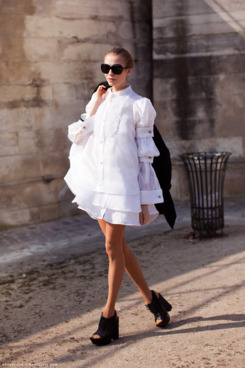 It's been a soggy, rainy week in New York, but in more bearable climates folks have been breaking out their crisp summer whites. In Paris, Stockholm Streetstyle captured Elena Perminova in an elaborate ruffly shirtdress; meanwhile, Altamira shot Giovanna Battaglia in a sleek, scallop-hemmed shift. There were lots of pale pastels on the streets, too, including Victoria's daring nude-leggings ensemble (which she actually manages to pull off, we think), snapped in Lisbon by O Alfaiate Lisboeta. Happy Friday!