Inside Tess Giberson's Soho Flagship, Opening Tomorrow
The former TSE design director brings collage art and drapey silk dresses to her first stand-alone store.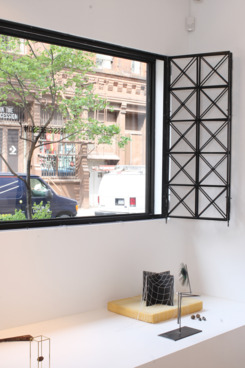 Former TSE design director Tess Giberson is launching her first stand-alone store on Crosby Street tomorrow, a 600-square-foot space minimally outfitted with pale wood floors, white brick walls, and simple wrought-iron rolling racks. As seems to be the recent trend — Agnes B opened a boutique-plus-gallery on Howard Street last month — the store will also host rotating art installations, including a collage of spring look-book images by Giberson's husband, artist Jon Widman. Though she founded her eponymous collection in 2001, this is Giberson's third season back since taking a two-year hiatus to design for TSE. The spring collection incorporates a largely neutral color palette of black, white, and gray, with splashy bolts of yellow and navy blue thrown in. The focus is on high-end fabrics and modern silhouettes, including draped silk dresses and skirts, tailored jackets, feathery knits, and leather detailing. Apart from Giberson's own collection, the boutique will stock a range of design books by photographers and artists like Daido Moriyama, Nobuyoshi Araki, and Yuki Kimura, jewelry by Nihn Wysocan, and sunglasses by Hisham Bharoocha. Click ahead for a closer look at what's in store.
Tess Giberson, 97 Crosby St., nr. Prince St.; 212-226-1932
BEGIN SLIDESHOW