This Swimsuit Depicting the Hindu Goddess Lakshmi Prompted Death Threats, Flag Burning
The suit will not be sold, naturally.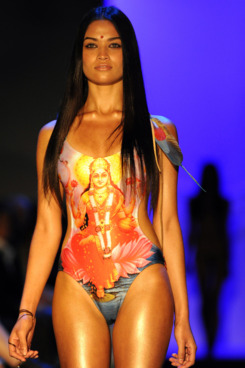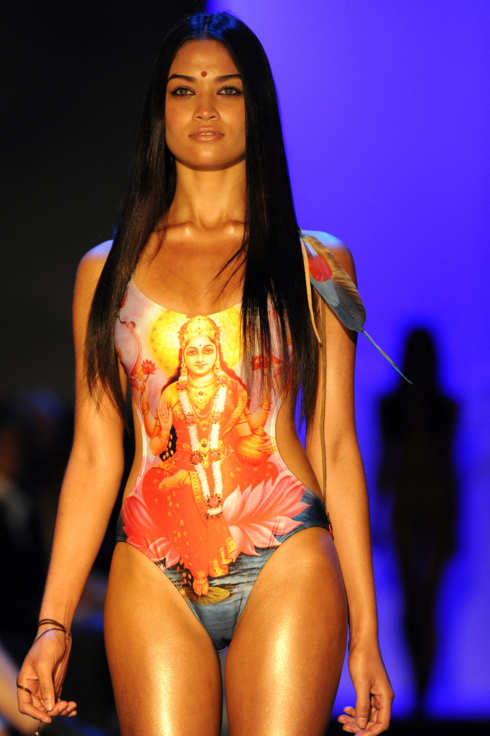 Australian swimwear brand Lisa Blue will not produce a one-piece it showed on the runway with an image of the Hindu goddess Lakshmi, following serious unrest among Hindu groups in India. One staged an Australian-flag-burning demonstration, and many more upset folks are leaving hateful comments on the blog Fashionising, which posted images from the offending runway show. These are mostly directed toward designer Lisa Burke, the site's editors write, and range from "statements of concern to mild slurs ... and all out death threats." In addition to removing the piece from her spring collection, Burke has apologized, which hasn't ameliorated the outcry much. If she knows so little of Hinduism, she also may know so little of Heidi Klum's annual Halloween costumes, which practically define America's post-"holiday" coverage in America: In 2008, Klum got backlash for taking her assistant's advice and dressing up as a "scary" version of Indian goddess Kali. Reports of Project Runway–DVD-burning demonstrations never emerged, so maybe she got off easy.