Video: Going to Prom in Wichita, Kansas, With Lindsey Wixson
Nothing awkward to see here.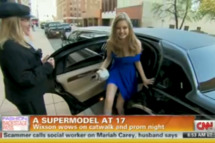 Whatever you got wrong when you went to prom, you can pretty much bet 17-year-old model Lindsey Wixson got right. The dress was a flirty Jason Wu number that looked like the opposite of the stuff they sell at Caché, the hair was down and soft instead of forced into a crusty mound of curls, and CNN filmed the whole thing (great for the model, perhaps less great for the much shorter-looking people who had to pose for photos with her). Reporter Alina Cho went home to Wichita with Lindsey, where she has a small, messy bedroom in her parents' house, filled with clothes gifted to her from designers like Marc Jacobs. She didn't even clean it up before the CNN camera crew came over, which is another reason her childhood > yours. In the video, there is also a very sweet moment when she kisses her dad good-bye and gets into the fashion-person-free limo.