Will Knockoffs of Pippa Middleton's Bridesmaid's Dress Outsell Knockoffs of Kate's Wedding Dress?
To dressmakers, knocking off Pippa's dress is just as important as knocking off Kate's.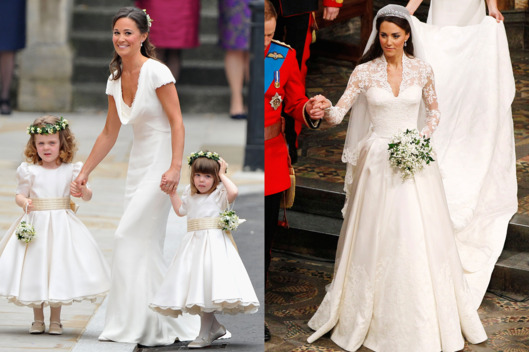 Did Pippa Middleton steal Kate Middeton's thunder on her wedding day? The debate has been raging among many a friend circle as Pippa's ass accrues more and more fans on Facebook, but now some proof that she did in fact enjoy quite a bit of her sister's limelight has emerged: labels rushing to knock off Kate's wedding dress — labels that had planned to knock it off all along — have also decided to knock off Pippa's dress. Designed by Alexander McQueen's Sarah Burton, like Kate's dress, Pippa's dress deserves a few qualifiers that are rare for a bridesmaid's dress, such as pretty, not dumpy, elegant, and even chic. Hell, Cameron Diaz wore a very similar style in red on the red carpet in 2010. Those knocking off the royal wedding dress, like the label Faviana's chief executive Omid Moradi, see the value in putting just as much energy into their Pippa as their Kate:

"Bridesmaids' dresses are generally ugly. Nobody wants to wear them," Mr. Moradi said.