Andy Roddick Is Now Designing Tennis Shorts for Lacoste
Just wearing them wasn't enough.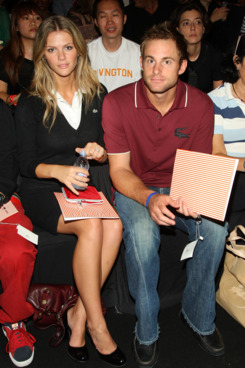 Andy Roddick has endorsed Lacoste for six years and counting. He's the face of their cologne, wears the alligator logo everywhere, and sits front-row at their fashion shows, even when he'd clearly rather be home trying to forget about the U.S. Open with a six-pack of beer and Brooklyn Decker. Now, just in time for tennis-tournament season, he's collaborated on a range of men's tennis gear, which features his autograph and a small embroidered silhouette of a tennis player (him, supposedly) mid-serve. "Is it tacky to wear your own collection all the time?" he mused jokingly to WWD. (We're guessing his contract doesn't give him much of a choice.) The line drops on July 1.