Ashlee Simpson's Style Evolution
From "punk-rock" ties and fingerless gloves to thigh-baring minidresses, a look at Simpson's sartorial choices over the years.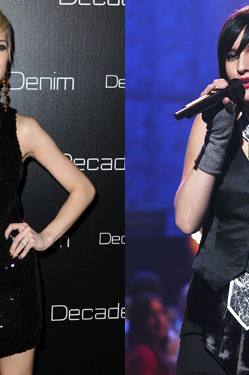 Last week, Jessica Simpson announced that she and sister Ashlee Simpson are collaborating on a line of tween clothing, set to hit racks late this year. The pair will serve as co-creative directors, with Ashlee bringing a "savvy rocker edge" to the collection, says Jessica. Since her first foray into the spotlight in early 2004 (remember The Ashlee Simpson Show, anyone?) Ashlee's style has been a work in progress over the years, ricocheting from her faux-punk-rock days to her minidress-marked stint on Melrose Place to her current fondness for black leather and fedoras. Take a look back at the younger Simpson's sartorial highs and lows through the years in the slideshow.