Cathy Horyn Didn't Like Lady Gaga's New Video Outfit Either
Ouch.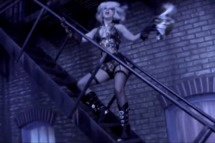 Lady Gaga wears the same outfit during her entire "Edge of Glory" video (unless you count flinging off her vintage Versace top to reveal the studded vintage Versace harness as a costume change), and Cathy Horyn feels very strongly that she should have picked a different one.
She looked embalmed in the black Versace harness (apparently from Gianni Versace's final collection), and I don't know why Donatella Versace said she was honored by Gaga's selection, unless, of course, she thought she had to say something nice about the superstar. But a D.O.A. video doesn't help the House of Versace. Be choosier, Ms. Versace.
Just the Essentials [NYT]