Charlize Theron Is Not Renouncing John Galliano
"I wish him nothing but well," she tells us.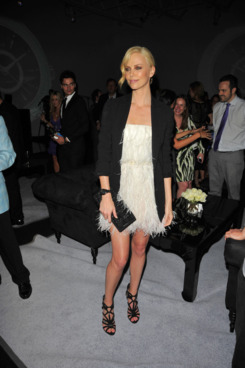 While Dior face Natalie Portman issued a scathing statement dissociating herself from John Galliano when video of his anti-Semitic rant hit the Internet, Dior face Charlize Theron is doing no such thing. "I don't want to talk too much," she told us last night at a party for the Dior VIII watch, when we asked if she had spoken to him. "I think that he's going through a really difficult time right now, and I'm sure that he wants some privacy. He's got an important journey to go through right now. But I wish him nothing but well."