David LaChapelle Shares Tips on Nude Photography
He's the expert, after all.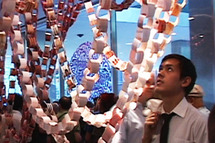 Famed photographer David LaChapelle went off the grid a few years back when he bought an organic farm in Maui (fittingly, it used to be a nudist colony) and stopped accepting jobs from the fashion and pop music industries. He's since made the leap from commercial photography to fine art and opened two concurrent exhibitions in New York this week. We visited his show at the Lever House, which consists of several collages of nudes (longtime LaChapelle muse Amanda Lepore is a recurring subject), to catch up with LaChapelle about his burgeoning art career.