First Look: Smurfette in Marc Jacobs and Dolce & Gabbana
No one had to worry about her fitting into sample sizes.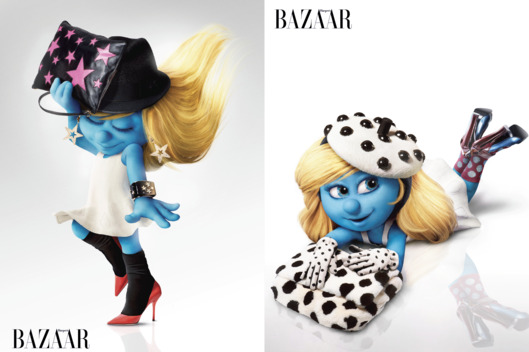 Why use a model when you can use a fictional blue creature? Never a publication to shy away from animated characters (they dressed Marge Simpson in Chanel couture, among other things, in 2007), Harper's Bazaar chose Smurfette, star of the forthcoming movie The Smurfs, to model fall 2011 accessories for the August issue. Features/special projects director Laura Brown conceptualized the spread, in which Smurfette wears one (but only one) of those polka-dot Marc Jacobs hats, as well as accessories by Lanvin, Dolce & Gabbana, and Louis Vuitton. What a convenient way to bypass Photoshop controversies.
Smurfette Style: Accessories That Pop [Harper's Bazaar]