John Galliano's Men's Show to Walk in Paris Today
Stumble Upon
After the strangeness of John Galliano's public defamation trial in Paris this week, the label that bears his name is showing two new collections, which will probably be less strange than they had been under Galliano's oversight. Today, the men's collection walks in Paris, while images of the resort collection (for which there is no runway show) have been released. WWD spoke to the label's CEO:

"There has been a lot of interest, a lot of appointments booked, so we will see," ceo Pierre Denis told WWD on Thursday. "Obviously it has been a complicated year, but people are keen to support the house, and we are producing great collections. I hope this will be reflected in the sales."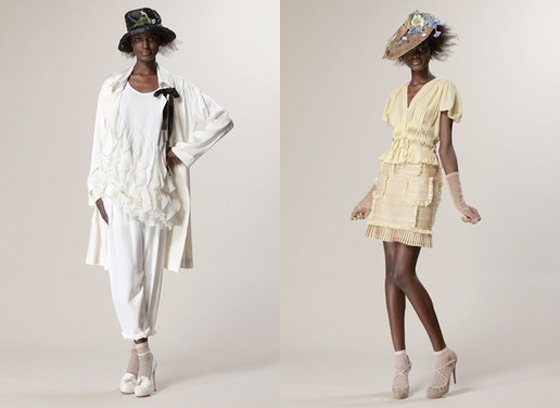 The men's and women's lines are being designed by the in-house team at John Galliano. Galliano's right-hand man for womenswear, Bill Gaytten, headed design for the resort collection, inspired by Bessie Smith and the Jazz Age of the twenties and thirties.
Denis reassured the paper that Galliano buyers — the women's line is carried in about 85 doors — and customers have nothing to worry about, with Galliano out of the picture. "This creative team is the heart of the company," he told WWD. "It is this great creative energy and talent that can truly capture the Galliano DNA with originality and innovative ideas." That has to sting Galliano the man a little bit. His sentencing is scheduled for September 8.