Macy's Workers Have Voted to Strike
Macy's said that such things are to be expected.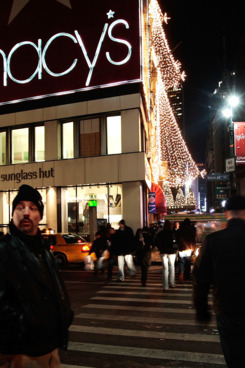 The union representing over 4,000 workers at Macy's stores in the New York City area has voted to strike if they can't agree on a new contract with the department store by Wednesday night. Among the issues at hand are rising health-care costs and reduced pension benefits, which workers protested outside the Macy's flagship in Herald Square last week. Macy's spokeswoman Elina Kazan said that this kind of blustering is par for the course: "A vote by the union to authorize a strike is an expected part of the process during contract negotiations," she explained. But onto more important things: If the strike does happen, what kind of mascot should the picketers have, since the dressed-up-rat thing has been done already?