See Banana Republic's Complete Mad Men Collection
It hits stores in August, which is when the show was supposed to premiere.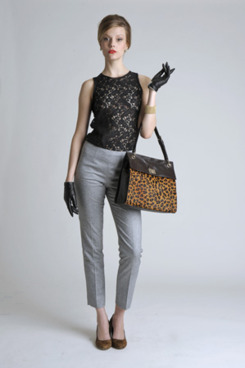 This August, Banana Republic stores will start selling Mad Men the capsule collection, which was supposed to coincide with the long-awaited return of Mad Men the television show on AMC. Though the season premiere has been pushed back to next year, the 65-piece line for men and women is coming out anyway. Inspired by the sixties outfits the cast wears on the show, it ought to be great for the chain, which has gotten a little stale over the years, lacking name-y designer capsule collections to hype and liven up the merchandise like H&M, Uniqlo, Topshop, Target, and even its sister store the Gap.
Bryant adds that many of the pieces she brought to Banana for the line came directly from the show, both new and vintage. Prices will be comparable to regular Banana Republic prices. See the full line in the slideshow.