Meet the New Girl: Carola Remer Quit Medical School to Model for Tom Ford and Jean Paul Gaultier
Stumble Upon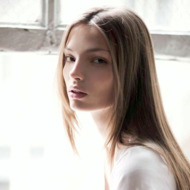 A child of a surgeon father and pharmacist mother, Carola Remer was well on her way to a career in medicine until her cousin sent photos of her to the local modeling agency. Now represented by One Management, the 20-year-old German has had an immense editorial response this year, shooting for Japanese Vogue, Chinese Vogue, Self Service, and Harper's Bazaar. She booked all those spreads before making her fall 2011 catwalk debut, walking for an eclectic group of designers, including Ralph Lauren, Emilio Pucci, Jean Paul Gaultier, and Tom Ford. We sat down with Remer to talk modeling, medicine, books, food, and more.
Tell us a little about your childhood.
As a kid I loved spending a lot of time with my friends, and I liked to be outside all the time. I was pretty good in school; I was definitely an athlete, too. I have one younger sister, and I remember being so happy when she was born because I was never a fan of being alone. Both my parents are in the medical field, so of course I went through a period where I thought that I wanted to study medicine and ended up taking it for three full semesters.
How did you get discovered?
When I was at medical school, my cousin lived nearby, and one day she had someone come into her salon and ask if she knew anyone who would be a good model. Without asking me, she sent in my pictures, and the agency that she sent them to asked if they could meet me. I thought it sounded cool and always loved to travel, so I figured why not?
You're an exceptional editorial model. What do you attribute to your success?
That's a hard question to answer; who's good at saying what makes them good? Some of the things that I've been told from clients is that I'm great in front of a camera … maybe this is because I've never really been shy? [I'm] not sure, but I also danced a lot growing up. I studied ballet and other styles of dance. Another thing is that I love to talk to people and learn a lot, which is something that clients seem to appreciate. I'm sure it doesn't hurt that I love what I do, too!
What's your most memorable experience from the fall 2011 runway season?
Tom Ford was an amazing experience for me because the clothes were not only beautiful, but the setting was so personal as well. Seeing all of the editors you always read about in magazines so up close and personal was exciting. Not to mention working with Tom Ford himself. He's such a fantastic and charming man!
What's your most favorite and least favorite feature about yourself?
My favorite feature? I guess that would be my eyes; I like the shape of them. The least favorite feature is this funny crinkle in my ear that seems to be a trademark in my family. (Strange, I know.)
What is your favorite:
Book?
The Alchemist by Paulo Coelho
Film?
Great Expectations with Anne Bancroft as Old Lady Nora Dinsmore.
Musician?
Michael Jackson
Artist?
Pablo Picasso
Food?
Cucumber soup from my mom
If you could meet anyone dead or alive, who would you meet?
Mahatma Gandhi is someone I would love to meet. He was such a revolutionary, and some of my favorite quotes in the world were his words. "Be the change you wish to see in the world." It's so simple yet such great advice.
When you have a day off, what do you like to do in your free time?
I love to cook for my friends and experiment with new recipes. I also enjoy exercising, reading books, wandering in search of new experiences. And of course [I love] shopping, like every other girl.
What was the last thing you bought?
A Givenchy bag during shows in Paris. I rarely spoil myself, but I loved the bag so much!
What's your motto?
Be strong.
Guilty pleasure?
BBQ chips!
If not modeling, what would you be doing?
I would finish my studies in medicine and move to a third-world country where I could be a doctor for people who can't afford medical attention.
Explore other rising stars (plus all the big names) in our extensive Model Manual, featuring runway pics, glamorous editorials, model bios, career timelines, and more.