Meet the New Girl: Colinne Michaelis Made Miuccia Prada Swoon
Stumble Upon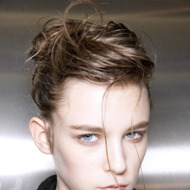 It took only two months for French newcomer Colinne Michaelis to land her breakthrough moment: opening for Prada's fall 2011 show in Milan. Discovered at the start of this year, the 17-year-old snagged a fall 2011 New York catwalk exclusive for Calvin Klein, which resulted in the coveted Prada opening slot. Michaelis also closed for Marni and walked for Dolce & Gabbana in Milan. By the time she hit Paris Fashion Week, Michaelis was a bona fide star, walking for Lanvin, Valentino, Céline, and Yves Saint Laurent. Photographers Sebastian Kim and Daniel Jackson already shot Michaelis for Interview and Acne Paper respectively.
Tell me something about yourself that most people don't know.
People who are close to me call me Ika.
You're still pretty new to the fashion industry. What surprises you most about it?
The perfectionism.
What's the difference between walking a catwalk and shooting an editorial spread?
It's all connected; a strong runway presence brings good editorials, which brings campaigns, and then hopefully a cosmetics or fragrance contract.
Who are your favorite designers?
Miuccia Prada, Francisco Costa, Riccardo Tisci, and Stefano Pilati.
How do you kill time waiting backstage at shows?
Reading, listening to the music, and observing what's happening around me. You learn a lot of things when you observe people.
What artists would you like to work with?
Peter Lindbergh because of his strong cinematic vision, Hedi Slimane because of his deep black-and-white portraits, and David Sims because his images show so much movement. I also adore Pat McGrath because her energy backstage is amazing, and her energy is so positive.
How would you describe your style?
Rock chic. Don't forget I come from France, so being chic is essential in the way I dress. I love my Miu Miu rock boots. For castings, I wear Jill Stuart, Alexander Wang, or Céline. I also love vintage shopping in Le Marais.
Give us a few beauty tips.
For hair, use natural olive oil, avocado, and eggs; mix all three and apply it to your hair. Keep it on for 2 hours then rinse with warm water. It's a family secret passed on from generation to generation! After that, I personally use L'Oreal's Vive Pro Shampoo.
What's been playing in your iPod recently?
Placebo, Guns N' Roses , Amy Winehouse, and some good classical music.
Favorite style icon?
It's super trendy to say Lady Gaga and Kate Moss, but my style icon is my great-grandmother, Hilda Sturm. She was actually a top model during the thirties and the wife of Alexander Liberman. She was such an incredible woman.
Any recent shoots we should look out for?
I shot Acne Magazine with Daniel Jackson and Interview with Sebastian Kim. It was one of my first time shooting an editorial, so working with Kim and Jackson was incredible.
Any tips to aspiring models?
Always be professional. Respect everybody and listen to what the designers, stylists, photographers, casting directors, and makeup artists tell you. Also, never complain and never be a princess. Humility before honor!
Explore other rising stars (plus all the big names) in our extensive Model Manual, featuring runway pics, glamorous editorials, model bios, career timelines, and more.