Michelle Obama Kidded Around in a Tracy Feith Dress
She's worn this before.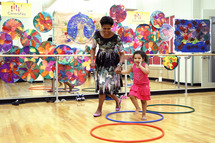 Michelle Obama visited a child-care facility in Washington, D.C., yesterday to announce a new kid-centric program in her Let's Move initiative. She repeated a black Tracy Feith dress with a wisteria print, accessorizing with pink flats, bangles on her left wrist, and a pair of pearl earrings. See the full outfit in the Michelle Obama Look Book.