See the Racy Magazine Distributed at the Mugler Men's Show (NSFW)
It's like an all-male revue, but cool.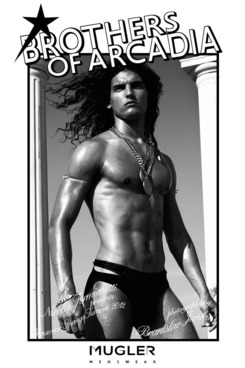 The hype leading up to Mugler's spring 2012 men's show in Paris this week was hard to turn away from, as anything created by the label's designer Nicola Formichetti tends to be. Videos of naked or nearly naked men with impeccable musculature were distributed to blogs like this one, and to XTube (don't click that unless you want to go to XTube) this week before the show. Showgoers, who are busy looking at clothes in person and might have missed all those wet hairy man thighs online, were not deprived at the show, where Formichetti's Brothers of Arcadia magazine was distributed. It includes shots of the models in the video, looking spectacular as always. View the entire thing in the NSFW slideshow.