Here Is Rodarte's Couture Collection at Pitti W
It's pretty extraordinary.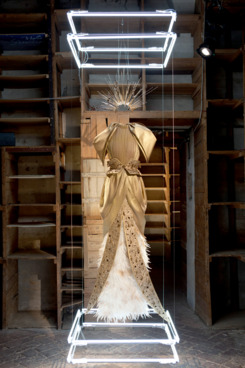 Rodarte unveiled their couture installation at Pitti W today, a collection of ten awe-inspiring dresses constructed from feathers, gold lamé, Swarovski crystals, sequins, and a variety of fabrics in various colors. Suspended in midair in the empty rooms of an unused building in Florence, the gowns are illuminated by neon light installations. According to a press release sent out by Rodarte, the Mulleavy sisters were inspired by Italian artworks, namely Fra Angelico's frescoes from the Convent of San Marco and Bernini's The Ecstasy of Saint Teresa. Following this installation, the dresses will be donated to the Los Angeles County Museum of Art.