Rachel Zoe Envisions Kate Middleton Wearing a Cinched Balloon in California
She says it's "perfect for a beach party in Malibu" — Kate's favorite pastime, to be sure.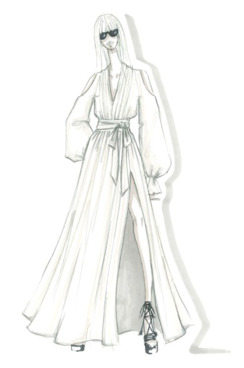 WWD polled some California-centric brands, like O'Neill, and California-centric people, like Rachel Zoe, to ask them what the duke and duchess of Cambridge should wear and do when they land in California on July 8. Zoe submitted the sketch you see here, explaining:

"At first glance, this look appears to be a dress, but it is actually two pieces — a maxiskirt and white blouse tucked in...beyond! It's glamorous, Boho and sexy without being too revealing. Perfect for a beach party in Malibu."