Exclusive First Look: 'The Fashion World of Jean Paul Gaultier'
The retrospective exhibition opens at the Montreal Museum of Fine Arts this Friday.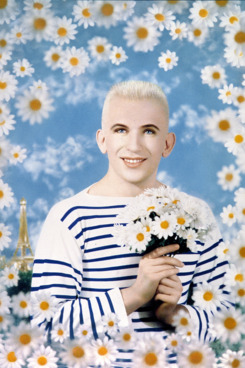 The Montreal Museum of Fine Arts' Jean Paul Gaultier exhibit won't include a live gang of ninjas or an actual burlesque-dance performance (at least, not that we know of), but not to worry: There will be talking mannequins, 120 haute couture dresses and ready-to-wear pieces, and video clips from films, concerts, and fashion shows from the designer's 35-year career. The museum proposed the idea of an ambitious retrospective exhibit to Gaultier two years ago and has since worked closely with him to put it together (the designer has a former long-term boyfriend in Montreal, and thus has a soft spot for the city, which he affectionately calls "Paris's leetle seester").
The 59-year-old designer insists that the retrospective exhibit isn't indicative of an approaching end point in his career, but rather is just another "creation" to add to his already colorful history. Browse a preview of "The Fashion World of Jean Paul Gaultier: From the Sidewalk to the Catwalk," which opens this Friday, June 17, and runs through October 2, in our slideshow.
BEGIN SLIDESHOW