Traffic on the Reiss Site Spikes After Kate Middleton Wears Their Dresses
In other words, today in obvious but always interesting news.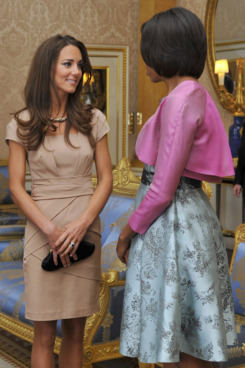 After the Duchess of Cambridge wore a dress by British label Reiss to meet Michelle Obama in Buckingham Palace, traffic on the label's website jumped 500 percent, a Reiss spokesperson told Fashionista. "Traffic to Reiss's site, though Kate's dress is still sold out online, remains up 200%," Fashionista adds, though it's unclear as to what the traffic is up from — the day before Kate wore the dress? She's worn Reiss since getting engaged to Prince William, therefore making everyone care deeply enough about her outfits to prompt these traffic spikes, so it would seem hard to assess a K-Mid-approved label's typical daily traffic these days, but we digress.
Kate Middleton Sells a Dress a Minute: How Does the Duchess's Selling Power Stack Up to Mrs. O's [Fashionista]