Victoria Beckham Will Make a New Line of Cheaper Dresses
Not that they're CHEAP, but they're not as expensive as her main line.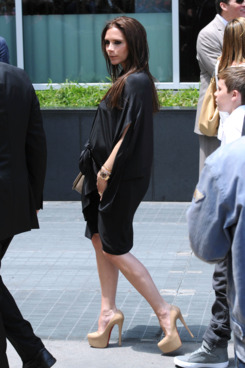 First comes the expensive line, then comes critical acclaim, then comes the secondary line. As Victoria Beckham readies to give birth to her fourth child — her first daughter — she's revealing plans for her second clothing line, Victoria by Victoria Beckham, which will range from $550 to $900. A plain cap-sleeve nude sheath dress from her main Victoria Beckham line will run you $1,435 on Net-a-Porter, so the new dresses are not cheap, but certainly cheaper than her main line. The first collection is her girliest to date, says Beckham, who admits she doesn't put anything in her collections that she wouldn't wear personally, which is actually pretty smart since celebrities that sell any sort of product are, ultimately, selling themselves, and she has branded her style very well.