Video: The Rachel Zoe Project's Fourth Season Includes a New Assistant, Stress, Baby Talk, White Bathrobes
In other words, everything you expected and crave.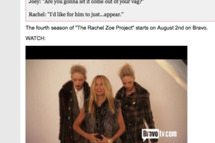 The Rachel Zoe Project's fourth season debuts on August 2 on Bravo, and the countdown is starting now. Since the last season of the show, Zoe has done a lot of different things, like have a baby, debut a clothing line, skip fashion weeks (because of the baby), and part ways with affable former assistant Brad Goreski, who is getting his own show. What's of the most interest in the new season, judging by the trailer, are the new Brad (if there can ever be such a thing) and, of course, the baby.
'The Rachel Zoe Project' Returns With Assistants, Oscars, And A Baby! (VIDEO) [HuffPo]